DOB MARKET MAKING SYSTEMS
The DOB Market Making Systems provide :
HIGH PRODUCTIVITY
A server-side Quoting Engine with ultra low latency
Server-side automatic algorithms for Hit Lift and trailing orders for outright Products and exchange-recognized Strategies.
Multi-Option and multi-Underlying simultaneous trading in the single system
QUOTE ENGINE
High performance automatic quoting
Flexible settings for theoretical pricing

Interest rates and corrections
Automatic distortion of quote prices after a trade

Quoting within predefined margins of theoretical prices
Automatic responses to Request for Quote
Automatic hedging algorithms
BUILT-IN RISK MANAGEMENT
Online calculation of P&L and Greeks
Special software tool for Risk Management for groups of Option traders
"What if" scenarios for modelling of Risk for various underlying prices
"What if" scenarios for Volatility, theoretical prices and Rho.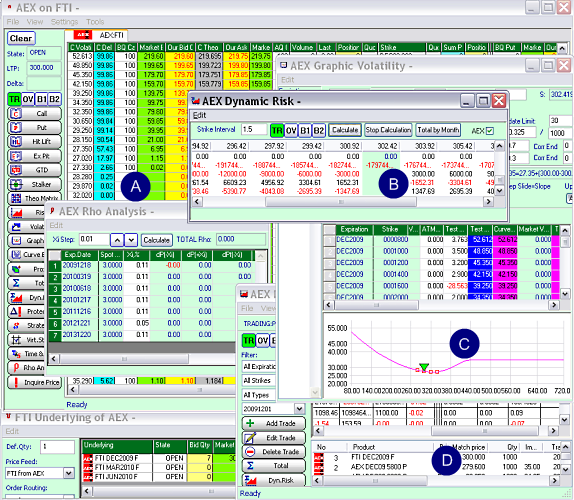 A. Multiple stocks, futures and options on several exchanges simultaneously.
B. "What-if" analysis of P&L, Greeks and prices
C. Flexible Volatility management
D. Online calculation of P&L, Greeks and Position data
Possibility to import and export of information like:
Import/Export of Volatilities from/to DOB system using own volatility program
Import/Export of Settings from/to DOB.